Robo-management™
The framework we developed to virtualize a human asset management team into software objects, provides an interaction between them that resembles what happens in a real asset management team, without its costs and drifts.
12/6/2018 Milano Finanza, Italian language: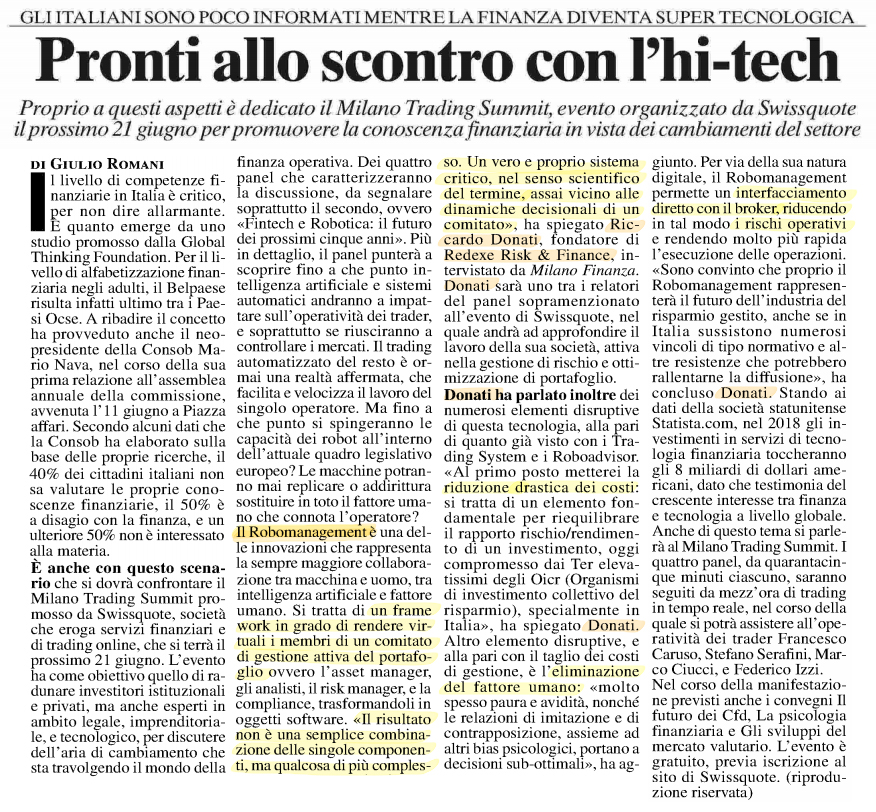 We invented the term Robomanagement™ to define the virtualization of a whole asset management team, including the Asset Manager, the Risk Manager, the Analysts, the Broker, the Compliance and the Auditor.
In this way, we are able to achieve many disruptive advantages with respect to a human committee: we have eliminated the psychological bias of human committees, reduced the total cost of management so allowing a risk reduction for the final investor, we can perform fully out-of-sample back-tests of the whole investment process, we can reduce operative risks and have fast responses to market changes, offering the some expected returns of major investment teams reducing the impact of extreme events using our risk measure RedES™.
Some details, implementations and relevant results can be found in the following playlist, recorded during a lecture Riccardo held at Ca' Foscari University of Venice on 27/11/2018 (Italian Language)
If you are an asset manager, a portfolio manager, an institution or a financial advisor, contact us for more, we will revert back to you soon! Please note that we do not serve natural persons.
Email
...or you can keep in touch with the social networks hereafter.